Wax Ribbon Ribbon Type Produces the best print quality with the highest chemical resistance, temperature resistance and wear resistance. Therefore, they are often used for printing on industrial materials that require long-term storage or under extreme environmental conditions such as labels on outdoor products, frozen products, pharmaceutical labels, labels in the conditions of pressure, high humidity, … The ink melting temperature of Ribbon Resin is very high, the viscosity and adhesion are also very high, the ink when printing is also tougher. so the ability to withstand high temperatures and wear, can be preserved for a long time.
Ribbon Wax Ribbon is barcode ink with high quality plastic wax material (Premium Wax Resin), suitable for printing self-adhesive stamps like decal stamps with high flexibility materials, Ribbon Wax was born. form to print all types of stamps with low thermal settings, high ink sensitivity and a level of resistance to abrasion and flaking that is superior to conventional Wax Resin . Usually used to print shipping stamps, price stamps or other applications for indoor use. Ribbon Wax is widely used in supermarkets, bookstores, libraries, companies …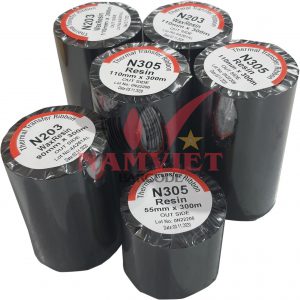 EFFICIENCY:
The Wax Ribbon has a strong responsive performance with printer speeds up to 32ips (800mm / s) with very high ink sensitivity. Ribbon Wax is a barcode ribbon suitable for printing with character content, small barcode (barcode fineness), printing on many surfaces of decal stamps such as PCV, PE, and PVC. Especially suitable for printers operating at the fastest speeds.
STRUCTURE OF RIBBON WAX
Ribbon Wax has a structure of three layers including: wax resin ink layer with melting point 80 degrees C, second layer is PET film in the middle with thickness of 4.5 μm and the last layer of substrate with KD coefficient <0,2 is responsible for aligning the Ribbon to give a beautiful print and for the machine to roll the used ribbon.
METHODS OF PRESERVATION:
When using bar code inks in general, to keep the ribbons for a clear label quality, preservation is very important. Genuine Wax ribbon barcode ribbons are recommended with storage conditions at temperatures of 5 to 35 degrees C, humidity 20 to 80%, and avoid direct sunlight. The use time is up to 12 months from the manufacturing date on the label of Ribbon Wax Ink.