Barcode ribbon is barcode ink suitable for printers with Flat Head Printers or printers with italic (Near Edge), with wax material (Wax) has good adhesion on many surfaces The surface of the decal and has a low heating temperature for optimal print head protection.
STRUCTURE OF RIBBON WAX RESIN:
The composition consists of three layers: the first layer is colored wax resin ink to have a melting index of 50 ° C, the second layer is the middle layer of Polyester film with a thickness of 4.5 μm + – 0.4 and the last layer. The same Dos plate with coefficient KD <0.2 is responsible for a fixed base and makes the printer easy to roll after use.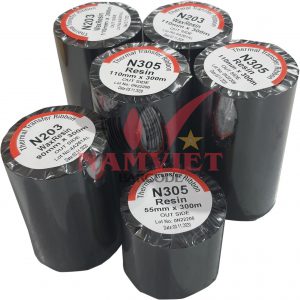 EFFICIENCY:
Good performance, responsive for barcode printers to achieve maximum performance at maximum speed, for clear print making barcode scanning fast and easy. Compatible with most major branded barcode printers in international markets such as Zebra, Honeywell. It can be used to print well text, bar codes with standard size, and adhesion on many surfaces of coated, glossy, synthetic surface type decal.
APPLICATION:
It is used to print label content such as barcodes, characters in a wide range of operations ranging from storage, shipping, signs and logos, tags, crates, product bags to distribution sub-stamps. Selected by leading printer manufacturers, with its high clarity print quality, thermal print head protection and has become a standard for optimal selection in today's label printing needs with reliability and high stability.
METHODS OF PRESERVATION:
When using bar code inks in general, to keep the ribbons of clear label quality, preservation is very important. For genuine Wax Resin Ribbon barcode ribbons are recommended with storage conditions at temperatures of 5 to 35 degrees C, humidity 30% to 80% and avoid direct sunlight. The shelf life is up to 12 Months from the Manufacturing Date indicated on the label of Ribbon Wax Resin Ink.
PRODUCT HIGHLIGHTS:
Printing quality is very good
Ability to print high speed
Sensitive and compatible with all materials.
Print quality is good with all types of label materials.
Provides high print quality for small characters and barcodes