Resin barcode printing inks a premium printing ink. Resin is made up of a mixture of wax and resin (Resin). Like other inks, Resin inks are cut and wound into rolls. With 300m length can be mounted with any printer model.
EFFICIENCY:
The difference of the Resin from other inks comes from their structure. With the amount of resin (Resin) with a much higher percentage than the wax. So Resin ink has a very high adhesion, very hard to smudge, good adhesion, scratch resistance, fading, chemical resistance. Especially with resin resin is resistant to moisture and water. The resin's characteristic is insoluble in water, so the water resistance of the resin barcode ribbon ink ribbon is excellent.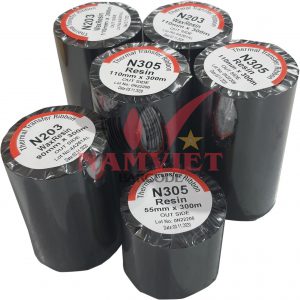 APPLICATION:
Due to the properties of Ribbon Resin has high adhesion and very good resistance. So it is one of the most used printing inks today. Resin barcode printing inks are suitable for use in harsh environments and conditions.
In frozen warehouses, frequently transported goods, plastic decal paper, pvc decal paper, metal paper … Ribbon Resin inks can be printed on industrial materials. Garment, leather, synthetic resin, fabric stamps, aluminum stamps, film, polyester, polypropylene and vinyl, Tyvek…. In addition, Ribbon Resin inks are also frequently used in the electronics industry. Printing and outdoor product labels.
Products must be shipped frequently. Under unusual conditions such as high or low pressure. High temperature, anti-mold material, for frozen storage or products must be soaked in water. Because the adhesion of this barcode inks belongs to extremely hard, super adhesion, extremely strong chemical resistance. It can be said that Resin barcode ink is quite fussy about users. It offers many benefits for barcode labels, many outstanding features. But its cost is a hurdle, usually three times more expensive than regular wax ink. Therefore, only businesses or regular users with high demand for using resin inks.
METHODS OF PRESERVATION:
When using bar code inks in general, to keep the ribbons of clear label quality, preservation is very important. For genuine Ribbon Resin ribbon barcode ribbons are recommended with storage conditions at temperatures of 5 to 35 degrees C, humidity 30% to 80% and avoid direct sunlight. The shelf life is up to 12 Months from the Manufacturing Date indicated on the label of Ribbon Resin Ink.
HIGHLIGHTS OF THE PRODUCT:
With the outstanding advantages of Resin barcode inks, this ink, although more expensive than other inks, is still chosen by many businesses.
– Good scratch resistance
– Withstands harsh outdoor environments for long periods of time
Resistant to solvents and cleaning chemicals
– For crisp and even color barcode label prints
– Anti-fading, fading, ….
– Can be used on all decal materials. Can be used with all barcode printers.