SOME PICTURES OF FIRE FIGHTING TRAINING TRAINING IN VIETNAM BARCODE IN 2020
In order to improve the knowledge and responsibility for employees on safety and fire prevention, on May 9, 2020, Ma Vach Nam Viet Production and Trading Joint Stock Company held a communication and training session. safety – fire protection for officers – employees of the Company. The HCNS Department coordinated with the Cu Chi District Fire Prevention Police Department to directly guide this training session.
The content of the training session provided some basic contents such as: the situation of local fire and explosion prevention, basic knowledge about fire prevention, fire and explosion causes, escape measures in case of fire , prevention and rescue methods when fire and explosion occur.
Participants were also instructed and practiced basic fire-fighting techniques such as: how to quickly pass water hoses without disturbing wires, how to use a gas-type (CO2) fire extinguisher and a powder-type fire extinguisher to extinguish extinguishing fire and how to quickly handle possible situations.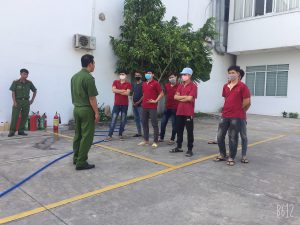 The training course has increased knowledge and responsibility for FPF for each staff member, so that they can calmly and proactively handle them when an incident occurs at the workplace as well as at home.