HAPPY VIET NAM VIETNAM CODE TRADING SERVICE TRADING JOINT STOCK COMPANY 12 years old
On November 21, 2020, the Board of Directors of Ma Vach Nam Viet Trading and Service Joint Stock Company and Trade Union held a 12-year birthday party. All staff of Nam Viet Barcode Company have gathered at the Company in a joyful, joyful, emotional atmosphere on the company's anniversary.
Over 12 years of construction and development, with the youth, intelligence and ceaseless efforts of the Board of Directors of the company and staff, Nam Viet Barcode is now considered one of the the leading and reputable companies in the field of printing labels and barcode ink, have been trusted by many domestic and foreign individual and business customers for many years.
The birthday party of Nam Viet Barcode Company was held in a warm, harmonious atmosphere, demonstrating the spirit of closeness and solidarity of all staff of South Vietnam Barcode.
Opening ceremony for the 12-year anniversary is a congratulation of Mr. Tran Hoai Nhan – General Director of the Company. Mr. Tran Hoai Nhan emphasized the achievements of the company after 12 years, and did not forget to thank the cooperation and assistance of partners, customers and the contribution of staff to Nam Vietnam Barcode. get the results today.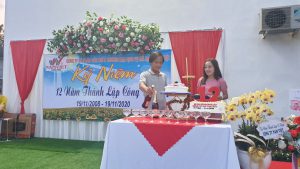 With each passing year, people get bigger, mature and stronger. Nam Viet Barcode is the same, over the past 12 years, each member of Nam Viet has always strived to perfect itself and perfect the company's products and services to bring customers and partners practical values. Most effective.
As Mr. Tran Hoai Nhan said at the party, over the past 12 years we have learned to walk slowly, sometimes very fast but sometimes very unsteady but South Vietnam overcomes, and after Twelve years, we know that now is the time for South Vietnam to steadily move forward.
After 12 years, for every South Vietnamese, it is not a long but not a short journey, 12 years – Nam Viet has become the second home for every employee and his colleagues are now like brothers. , sister, close brother in the family.
After the ceremony, there was an intimate party between all employees and the leaders of South Vietnam Barcode. The ceremony took place extremely cozy with laughter and meaningful birthday greetings of all participating members.
At the end of the ceremony, there is a unique emotion in each person, but all of them are determined to try their best, try their best together to bring the company to new heights, then 20 years, 30 years later, the next generations will further promote their dedication efforts, to make the company stronger and stronger.
Some pictures of the birthday party