Máy in mã vạch Godex G500 – 203DPI
Godex G500 có thể in trên giấy decal mã vạch với công nghệ truyền nhiệt (Cần mực đi kèm) hoặc cảm nhiệt trực tiếp (ko cần mực). Như vậy có thể nói, G500 là chiếc máy in toàn diện và đa năng. Phù với với mọi nhu cầu từ siêu thị, shop cửa hàng, hay tới nhu cầu sản xuất, và các yêu cầu khắt khe về chất lượng tem in như in tem nhỏ, tem trang sức, hay tem chất liệu PVC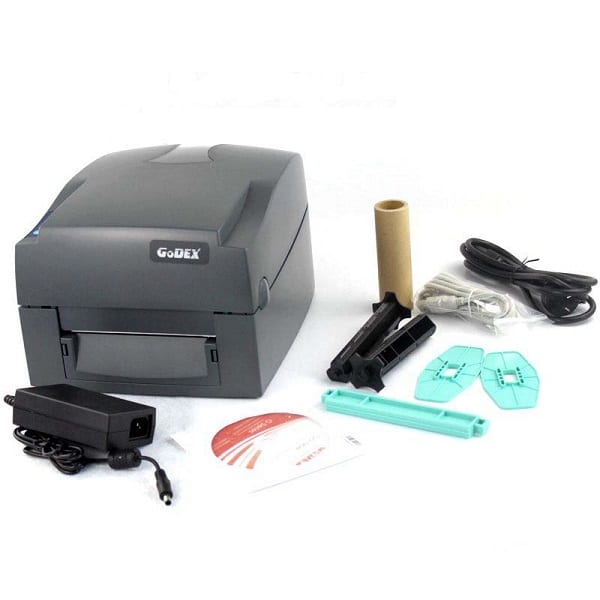 Godex G500 tương thích với mọi loại Decal mã vạch và mực in. Tốc độ in 5ips, độ phân giải 203Dpi, Godex G500 có thể kết hợp với mực resin, mực wax hay wax premium. Có thể in trên chất liệu Decal giấy thường, Decal PVC. Thậm chí có thể được sử dụng để in tem nhãn trang sức, vàng bạc. Tuy nhiên, Để có thể in trên chất liệu Xi Bạc hay in tem vàng trang sức, Khách hàng có thể sử dụng và tham khảo máy in Godex G530 – 1 phiên bản cao hơn của Godex G500 khi có khả năng in với độ phân giải lên tới 300DPi.
Godex G500 có độ rộng đầu in lên tới 108mm, khả năng in tùy chỉnh chiều cao nhãn từ 4mm – 1727mm. Vì vậy, Máy đáp ứng hầu hết các yêu cầu về in tem nhãn phụ cho sản phẩm, hay tem nhãn mã vạch trong siêu thị, shop,… Hiện nay, tại Việt Nam, tem nhãn mã vạch có các kích thước phổ biến nhỉ 35x22mm, 50x50mm, 100x100mm, 50x30mm,…
Godex G500 có cổng kết nối USB 2.0 phổ biến nhất hiện nay, giúp cho việc kết nối máy tính, truy xuất dữ liệu được dễ dàng và nhanh chóng. Người dùng có thể thiết kế tem nhãn mã vạch trên máy tính bằng phần mềm Qlable hoặc bartender,… với các tùy chỉnh kích thước, nội dụng tem nhãn khác nhau. Và dễ dàng tùy chỉnh cài đặt setup print để tiến hành in ấn chính xác và hiệu quả.
Thông số kỹ thuật Godex G500:
Print Method
Thermal Transfer / Direct Thermal
Resolution
203 dpi (8 dots/mm)
Print Speed
5IPS (127 mm/s)
Print Width
4.25″ (108 mm)
Print Length
Min. 0.16" (4 mm)**; Max. 68" (1727 mm)
Processor
32 Bit RISC CPU
Memory
8MB Flash (4MB for user storage) / 16MB SDRAM
Sensor Type
Adjustable reflective sensor. Fixed transmissive sensor, central aligned
Media
Types: Continuous form, gap labels, black mark sensing, and punched hole; label length set by auto sensing or programming
Width: 1" (25.4 mm) Min. – 4.64" (118 mm) Max.
Thickness: 0.0024" (0.06 mm) Min. – 0.01" (0.25 mm) Max.
Label roll diameter: Max. 5" (127 mm)
Core diameter: 1", 1.5", 3″ (25.4 mm, 38.1 mm, 76.2 mm)
Ribbon
Types: Wax, wax/resin, resin
Length: 981' (300 m)
Width: 1.18" Min – 4.33" (30 mm – 110 mm) Max
Ribbon roll diameter.: 2.67" (68 mm)
Core diameter: 1" (25.4 mm)
Printer Language
EZPL, GEPL, GZPL auto switch
Software
Label design software: GoLabel (for EZPL only)
Driver: MAC , Linux Windows 2000 / XP / VISTA / Windows 7 / Windows 8.1
DLL: Win CE , .NET , Windows Mobile, Windows 2000 / XP / VISTA / Windows 7 / Windows 8.1 / Android
Barcodes
1-D Bar codes
2-D Bar codes
Code Pages
CODEPAGE 437, 850, 851, 852, 855, 857, 860, 861, 862, 863, 865, 866, 869, 737
WINDOWS 1250, 1251, 1252, 1253, 1254, 1255, 1257
Unicode UTF8, UTF16BE, UTF16LE
Graphics
Resident graphic file types are BMP and PCX, other graphic formats are downloadable from the software
Interfaces
USB + Parallel Port
USB + Serial Port + Ethernet
Control Panel
Two bi-color status-LEDs: Ready, Status
Control key: FEED
Power
Auto Switching 100-240VAC, 50-60Hz
Environment
Operation temperature: 41 F to 104 F (5 C to 40 C)
Storage temperature: -4 F to 122 F (-20 C to 50 C)
Humidity
Operation: 30-85%, non-condensing.
Storage: 10-90%, non-condensing.
Agency Approvals
CE(EMC), FCC Class A, CB, cUL, CCC
Dimension
Length: 11.2" (285 mm)
Height: 6.8" (171 mm)
Width: 8.9" (226 mm)
Weight
6 lbs (2.72Kg) ,excluding consumables
Options
Cutter Module
Label Dispenser
External label roll holder for 10" (250 mm) O.D. label rolls
External label rewinder
Note
* Specifications are subject to change without notice. All company and/or product names are trademarks and/or registered trademarks of their respective owners.
** Minimum print height and maximum print speed specification compliance can be dependent on non-standard material variables such as label type, thickness, spacing, liner construction, etc. GoDEX is pleased to test non-standard materials for minimum print height and maximum print speed capability.